---
---
PLEASE CHECK WITH US ABOUT STOCK AVAILABILITY ON ALL OTHER MODELS BEFORE PLACING AN ORDER ONLINE!!! SOME NL PURE MODELS MIGHT BE BACKORDERED FROM TIME TO TIME. 



With Swarovski's largest field of view ever in a binocular, Swarovski's new NL Pure Binoculars allow you to experience nature like never before. Swarovski's SWAROVISION technology ensures that the NL Pure provides crystal clear images with absolutely stunning color fidelity. With a new ergonomic design that perfectly contours to the hand, the NL Pure might be the most comfortable binocular you've ever owned. Swarovski NL Pure Binoculars now available in FIVE models: 8x32, 10x32, 8x42, 10x42, and 12x42.
Watch this short review of the Swarovski NL Pure 8x42 Binoculars:
8x42 Features:
The largest-ever field of view - 159m at 1000m
Revolutionary ergonomic shape
Perfectly balanced for a steady image
Incredible colour fidelity with high light transmission
Field Flattener Lenses - an almost flat, completely distortion-free image
Weighs just 840g
New FSB functional sidebag included
UCS universal comfort strap included
Also available in a 8x32, 10x32, 10x42 and 12x42
FSB FUNCTIONAL SIDEBAG
Included with the NL Pure, the new FSB functional sidebag ensures they are at your fingertips and ready to use as soon as you reach into the bag.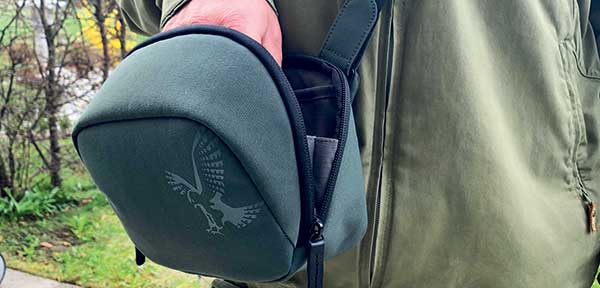 UCS UNIVERSAL COMFORT STRAP
With an ergonomic and wide neck section, the UCS is the perfect strap to go with the NL Pure binoculars. The use of performance materials such as mesh regulates moisture and provides excellent ventilation. The universal comfort strap is a classic webbing strap that can be quickly and intuitively adjusted to the length you need via a quick-lock clasp on each side.
SOAP & BRUSH KIT
A soap & brush kit is supplied for cleaning the armouring on the case. Close the covers on the eyepiece and objective lenses. Moisten the brush and apply the soap using circular movements to gently clean the housing. Then rinse the NL Pure with clear water and dry it carefully. Regular cleaning extends the life of the product.
SUPPLIED WITH
UCS universal comfort strap
FSB functional sidebag
Eyepiece and objective lens cover
Soap & brush kit
Microfiber cloth
Strap loop connector
Cover for steel rings (when detaching the objective lens cover)
Swarovski NL Pure 8x32 Binoculars Technical Data
Magnification: 8x
Effective objective lens diameter (mm): 32 mm
Exit pupil diameter (mm): 4 mm
Exit pupil distance: 18 mm
Field of view (m/1,000 m) / (ft/1,000 yds) : 150 m (450 ft)
Field of view (degrees): 8.5°
Field of view for eyeglass wearers (degrees): 8.5°
Field of view, apparent (degrees): 65°
Shortest focusing distance:

2.0 m/6.6 ft

Diopter adjustment left/right: ± 4 dpt
Diopter correction at ∞: 5 dpt
Interpupillary distance:

54-72 mm 2.1-2.8 in

Light transmission: 92%
Approx. length*: 144 mm/5.7 in
Approx. width**: 130 mm/5.1 in
Approx. height**: 65 mm/2.6 in
Approx. weight: 640 g/22.8 oz
Swarovski NL Pure 10x32 Binoculars Technical Data
Magnification: 8x
Effective objective lens diameter (mm): 32 mm
Exit pupil diameter (mm): 3.2 mm
Exit pupil distance: 18 mm
Field of view (m/1,000 m) / (ft/1,000 yds) : 132 m (396 ft)
Field of view (degrees): 7.5°
Field of view for eyeglass wearers (degrees): 7.5°
Field of view, apparent (degrees): 69°
Shortest focusing distance: 2.0 m/6.6 ft
Diopter adjustment left/right: ± 4 dpt
Diopter correction at ∞: 5 dpt
Interpupillary distance: 54-72 mm 2.1-2.8 in
Light transmission: 92%
Approx. length*: 144 mm/5.7 in
Approx. width**: 130 mm/5.1 in
Approx. height**: 65 mm/2.6 in
Approx. weight: 640 g/22.8 oz
Swarovski NL Pure 8x42 Binoculars Technical Data
Magnification: 8x
Effective objective lens diameter (mm): 42 mm
Exit pupil diameter (mm): 5.3 mm
Exit pupil distance: 18 mm
Field of view (m/1,000 m) / (ft/1,000 yds) : 159 m (477 ft)
Field of view (degrees): 9.1°
Field of view for eyeglass wearers (degrees): 9.1°
Field of view, apparent (degrees): 69°
Shortest focusing distance: 2.0 m/6.6 ft
Diopter adjustment left/right: ± 4 dpt
Diopter correction at ∞: 5 dpt
Interpupillary distance: 56-74 mm 2.2-2.9 in
Light transmission: 91%
Approx. length*: 158 mm/6.2 in
Approx. width**: 131 mm/5.1 in
Approx. height**: 71 mm/2.8 in
Approx. weight: 840 g/29.5 oz
Swarovski NL Pure 10x42 Binoculars Technical Data
Magnification: 10x
Effective objective lens diameter (mm): 42 mm
Exit pupil diameter (mm): 4.2 mm
Exit pupil distance: 18 mm
Field of view (m/1,000 m) / (ft/1,000 yds) : 133 m (399 ft)
Field of view (degrees): 7.6°
Field of view for eyeglass wearers (degrees): 7.6°
Field of view, apparent (degrees): 70°
Shortest focusing distance: 2.0 m/6.6 ft
Diopter adjustment left/right: ± 4 dpt
Diopter correction at ∞: 5 dpt
Interpupillary distance: 56-74 mm 2.2-2.9 in
Light transmission: 91%
Approx. length*: 158 mm/6.2 in
Approx. width**: 131 mm/5.1 in
Approx. height**: 71 mm/2.8 in
Approx. weight: 850 g/30 oz
Swarovski NL Pure 12x42 Binoculars Technical Data
Magnification: 12x
Effective objective lens diameter (mm): 42 mm
Exit pupil diameter (mm): 3.5 mm
Exit pupil distance: 18 mm
Field of view (m/1,000 m) / (ft/1,000 yds) : 113 m (339 ft)
Field of view (degrees): 6.5°
Field of view for eyeglass wearers (degrees): 6.5°
Field of view, apparent (degrees): 71°
Shortest focusing distance: 2.6 m/8.5 ft
Diopter adjustment left/right: ± 4 dpt
Diopter correction at ∞: 5 dpt
Interpupillary distance: 56-74 mm 2.2-2.9 in
Light transmission: 91%
Approx. length*: 158 mm/6.2 in
Approx. width**: 131 mm/5.1 in
Approx. height**: 71 mm/2.8 in
Approx. weight: 840 g/29.5 oz
Optical coatings: SWAROTOP, SWARODUR, SWAROBRIGHT · Functional temperature: -25°C to +55°C (-13°F to +131°F) · Storage temperature: -30°C to +70°C (-22°F to +158°F) · Submersion tightness: 4 m (13 ft) (inert gas filling)
* with lowered eyecups
** at interpupillary distance of 64 mm (2.5 in)
---