---
---
Meet the 4StableSticks Ultimate Carbon Sticks - proudly made in France.
This set of sticks offers top of the line stability with 2-contact points, weighing in at just 22.9 oz and built with trusted Carbon Fiber constructed poles and Reinforced Fiber Glass Components.
The Ultimate Carbon Sticks are an incredibly durable, adjustable, portable, lightweight and stable shooting sticks. Comes supplied with a carrying case. Manufactured in France and developed in close collaboration with a team of seasoned outdoorsmen, the 4StableSticks Ultimate Carbon Quad Shooting Sticks are perfect for all types of pursuits. By putting two points of contact on the ground and another two points of contact on your stock, you have the ability to stay steady for a standing shot and slowly track a moving animal. No other sticks give you the stability you will find in the 4StableSticks. Simply widen or narrow the legs to adjust for user height.
Adjustable for Standing or Kneeling, Hands-Free system to be able to use binoculars, traditional rifle rest, monopod, walking stick.
Extremely lightweight, but highly durable.
Weight: 650 gr (22.9 oz)
Material: Carbon Fiber poles with nylon reinforced fiber glass components
Length set up: 170 cm (66.9"), Taken down: 65 cm (25.6"), User size: 165 cm to 185 cm (65 in to 72.8 in).
Finish : Carbon
Use: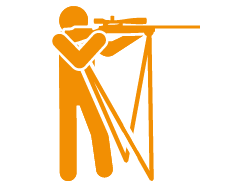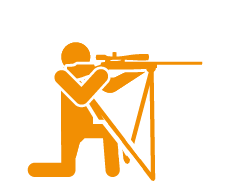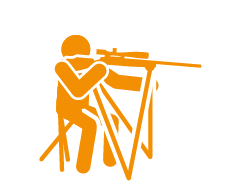 Technical characteristics:

22 Oz

100% Carbon

8 elements

Adjustable from
118 to 168 cm

65 cm

165 cm
to 185 cm
---